Audio Books & Clips of W.O. Readings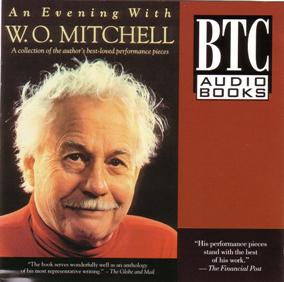 Anyone who ever saw one of W.O. Mitchell's readings will know why they were described as unforgettable. Unruly white hair flying, fist raised, voice husky or thundering, eyes wide in innocent astonishment at a double entendre raising a laugh, W.O. Mitchell did not give readings from his work; he performed them. He loved "the immediate thrust of a live audience as it responds to story magic," and audiences loved him. Recorded live at the Stratford Festival, Trent University, and the Banff Centre for the Arts, selections include "The Day I Spoke for Mister Lincoln," "How to Fail at Public Speaking," "Old Kacky and the Vanishing Point," "Take One Giant Step," and "Melvin Arbuckle's First Course in Shock Therapy." Introduced by Stuart Mclean, this recording showcases the best from a writer and performer whose own character is perhaps his best creation.


"One and a half hours of pure pleasure" (Saskatoon Star Phoenix).
"Mitchell's great love of the spoken and the written word is captured in this live performance" (Best of the West).
"His performance pieces stand with the best of his work" (Financial Post).
To purchase this book email womitchell@womitchell.ca
Click HERE to listen to a clip from An Evening With W.O. Mitchell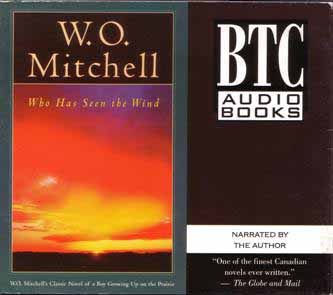 Since its publication in 1947, Who Has Seen the Wind has sold over three quarters of a million copies in Canada alone, and more than 5,000 copies on cassette. Now, this magnificent archival recording of W.O. Mitchell reading his famous novel can be enjoyed on CD. Hailed as the great Canadian classic of boyhood, Who Has Seen the Wind tells the story of young Brian, who learns about life and death, freedom and justice, as he comes of age in the west. Set in the fictional town of Crocus, Saskatchewan, the novel explores the evolving consciousness of Brian O'Connal, the local druggist's son. Just four years old at the novel's outset, Brian brings a delightfully naïve and undeniably canny sensibility to the pivotal experiences of childhood and adolescence. Moving, humorous, and eloquent, Who Has Seen the Wind portrays the beauty and power of the Prairies and of the human spirit, and introduces some of the most vivid characters ever in Canadian fiction. A consummate performer and irrepressible storyteller, W.O. Mitchell reads his best-loved work in the inimitable style that has delighted audiences throughout Canada for generations.
To purchase this book email womitchell@womitchell.ca

Click HERE to listen to a clip from Who Has Seen the Wind.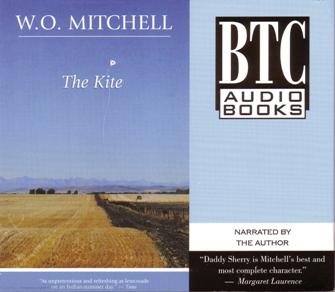 First published in 1962, The Kite was Mitchell's long-awaited follow-up to Who Has Seen the Wind. It tells the story of David Lang, a big-time Toronto journalist, who arrives in the small Prairie community of Shelby, Alberta, to write a magazine piece about the town's oldest citizen. The cantankerous Daddy Sherry stands out as one of Mitchell's most hilarious creations. Stubbornly alive in every sinew of his 111-year-old body, he is the antithesis of the uptight David, who responds to childhood disappointment with a fixation on time and loss. Full of tremendous verve, humour, and insight into human nature, this sly satire about the collision of two opposing world views is guaranteed to warm the hearts of audio listeners. This never-before-published edition of the novel in audio format features Mitchell's own spirited reading. It also introduces a whole new generation of readers to the rampaging Daddy Sherry, a "holy terror" whom Margaret Laurence considered to be Mitchell's "best and most complete character."
To purchase this book email womitchell@womitchell.ca

Click HERE to listen to a clip from The Kite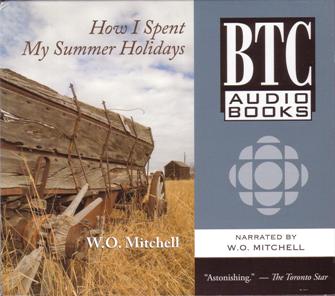 When How I Spent My Summer Holidays was first published in 1981, one reviewer wrote: "If Who Has Seen the Wind told the story of a young boy's coming to terms with death, How I Spent My Summer Holidays tells of a young man's attempt to come to terms with his own sexuality and that of the world around him." The twelve-year-old young man is Hugh, and in small-town Saskatchewan it is the hot summer of 1924. When Hugh and his friends dig a secret cave out on the Prairie, they find it occupied by a patient who has escaped from the mental hospital. Defying the adult world, the boys become involved with a former war hero and current rum-runner in sheltering and feeding the runaway. But when passions explode into murder, Hugh leaves his boyhood behind him forever. W.O. Mitchell, the only Canadian author recognizable by his initials alone, became Canada's favourite storyteller with his CBC Radio broadcasts. His familiar "prairie cackle" delighted a generation of listeners. Hearing this dark coming-of-age story in Mitchell's own voice in this archival recording is an experience not to be missed.
"Wonderfully wry, humourous and occasionally salacious" (The Toronto Star).
"Bawdy and raunchy - an uncannily accurate feel for the emotional viewpoint of a 12-year old boy" (Globe and Mail).
"Moving, vivid and exciting - a beautiful, rich and utterly fascinating novel" (Windsor Star).
To purchase this book email womitchell@womitchell.ca

Click HERE to listen to a clip from How I Spent My Summer Holidays.